Do you own a freshwater aquarium and want to ensure that you're providing the right environment for all of its inhabitants . . . to keep them healthy, happy and thriving – for years to come?
Today only, get this Amazon bestseller for just .99. Regularly priced at .99. Read on your PC, Mac, smart phone, tablet or Kindle device.
Are you interested in learning the best, fastest and easiest way to maintain the efficiency your freshwater aquarium without spending a lot of money on supplies?
You're about to discover a proven system for optimizing the health and energy, and "personality" of all of your fish and marine life currently living in your freshwater aquarium. This freshwater aquarium book works whether your fish are currently healthy or sick, young or old.
Here's the thing: Freshwater aquariums are the easiest marine environment to maintain.
Believe it or not, there are several very simple steps you need to take. And if you know what these are your freshwater aquarium fish will live a long and healthy life – and bring you years of enjoyment.
What most people don't realize is that setting up your tank the right way is extremely easy to do.
This freshwater aquarium guide is guaranteed to teach you everything you need to know about freshwater aquarium care and help you maximize some of the most endearing traits of these unique fish which live in this environment.
If you've owned a Freshwater aquarium in the past unsuccessfully, then this book is for you.
If you just got a new freshwater aquarium and have no idea how to care for it properly, this is for you.
If you're thinking about getting a freshwater aquarium and you want to make sure you start out on the right foot, this is for you.
There are essentially 4 main things you need to know about Freshwater aquarium care:
How to setup your tank properly
How to maintain quality conditions in your tank
How to cure your freshwater fish should they fall ill
How to keep your Freshwater fish interested in the environment around him
This freshwater aquarium book covers all of this, and a lot more.
And when you read it, you'll be BLOWN AWAY with how simple it really is to maintain your freshwater aquarium.
Here's just a taste of what you'll discover...
A complete guide to water conditions and how to easily maintain proper water quality
The surprisingly diverse options in types of aquariums from which to choose for your freshwater fish
Step-by-step instructions on how to choose a freshwater aquarium
Recommendations on what stands to buy for your aquarium to rest on – and why this seemingly small decision may play a big role in your success!
A crash course on the most important equipment your freshwater aquarium needs before you put a single fish in it
Why substrate matters! This guide also explains what substrate is and what exactly it means to your fish
The 4 types of substrate to avoid at any cost. As soon as you download the eBook, you'll want to turn to this section
What a pH level is and why it's important to the health of your fish and the overall environment in your freshwater aquarium
How to choose freshwater fish
6 crucial factors to consider before you buy any fish
And more!
Download your copy today!
You'll discover much more in this rare and candid freshwater aquarium care system.You'll be overjoyed by how much fun it is to have a beautiful and efficient freshwater aquarium that will provide you with enjoyment for years to come.
Take action today and download this book for a limited time discount of only
.99!
Tags:freshwater aquarium book,freshwater aquarium fish,freshwater aquarium maintenance,freshwater aquarium plants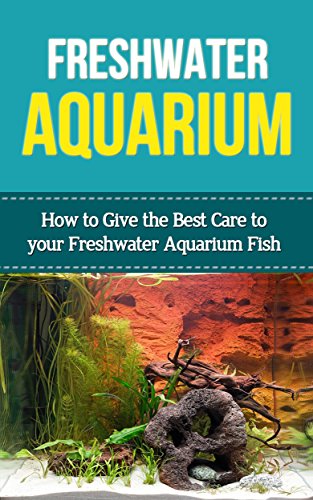 Price:
More
Freshwater Aquariums Products