Premium Combo Set includes: 1 x 100W Fish Tank Water Heater, 1 x Fish Tank Gravel Siphon Vacuum Cleaner
Package includes Accessory ONLY. Device is not included
All rights reserved. All trade names are registered trademarks of respective manufacturers listed.
1X Aquarium Fish Tank Gravel Siphon Vacuum Cleaner. This battery-powered cleaner will clean your gravel and catch dirt without doing a water change. It sucks the dirt with water through a filter bag, the dirt will be kept in the filter bag and water will return to the tank. It can also be used to siphon the water out for a water change. Clean your gravel, siphon the dirt out without requiring a water change. Adjustable height by two interchangeable pipes of different length, suitable for both shallow and deep aquarium. Battery powered - safe for you and your fish. Height Adjustable from 55cm to 80cm. Recommended for aquariums with 26cm-62cm depth. Easy to install and use. Power by 2 x CLR-14 Battery (not included). User manual and filter bag included. Accessory ONLY; batteries not included. 1X 100W 110-120V Adjustable Aquarium Fish Tank Water Heater. Provide a constant warm environment for your tropical fish to stay healthy with this aquarium water heater. Color: Black. Range of temperature adjustment: 20~34°C. Voltage: 110V-120V. Power: 100W. Heater length: 24-cm/ 9. 4-inch. Cable length: 102-cm/ 40. 2-inch. Suggested water volume: 32gal. Easy-to-read temperature indicator. Sensitive and reliable thermostat maintains uniform temperature. Two suction cups and user manual included. Advanced design for freshwater or marine setups. Double sealed waterproof material ensures safe operation. Polarized plug prevents electrical shock.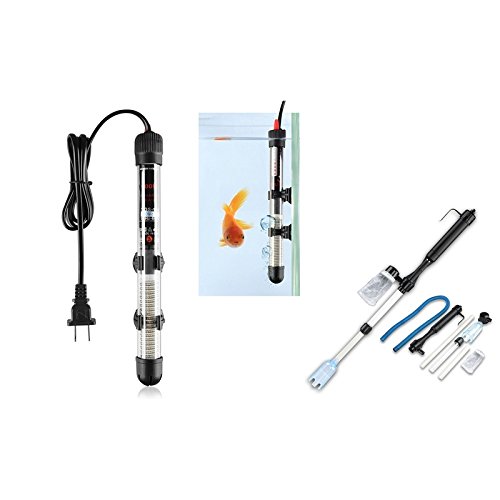 List Price: CDN$ 23.71
Price: CDN$ 23.71