6 sided, 6 gallon sealed glass aquarium
Powerful, easy to use Edge filter with Cycleguard
Includes Nutrafin Cycle and Nutrafin Aquaplus water treatments
LED Lighting, Filtration & Wiring is easily hidden away in the décorative column
Powerful bright white 7600K high liuminosity LED's with 3 deep blue night-time light LED's and 3 position switch
Fluval EDGE Inspired by architectural styling, the EDGE aquarium creates a unique visual effect capturing emotion and serenity within a contemporary setting. The Fluval EDGE design includes a unique equipment casing which hides and holds all the essentials. Even wiring is beautifully hidden, allowing a good all-around view whether placed on a desk, low coffee table or kitchen top. EDGE brings an exciting new look to aquatics, combining the most modern aquarium design with the beauty of nature. The result is an utterly stylish complement to any home or office space. Removable cover 6 and 12 Gallon tanks available. Variety of Features Two Sizes Available The Fluval EDGE is available in two sizes: a 6 gallon aquarium and a 12 gallon aquarium. Both models have been designed to capture emotion and serenity. 360 Degree Viewing The world's first 3D water cube aquarium, both models of the Fluval EDGE can be filled to the very brim thanks to the sealed glass top, providing high definition viewing from every angle. The sealed top reduces evaporation for less maintenance and a large, hidden aperture allows oxygen exchange to keep fish healthy. A floating base design gives the set a very small footprint for easy placement and lends the aquarium a clean, contemporary look. Compact Design The EDGE is extremely versatile due to its compact proportions. It makes a beautiful addition to any interior where space may be limited and in low light areas, it brings light and life to dull corners and uninteresting walls. Hidden High Quality Filtration Fluval EDGE comes complete with a powerful and efficient 3 stage filter which remains completely hidden, preserving the striking aquarium design. Featuring mechanical, chemical and biological filtration for clear, healthy water, the EDGE filter is much like Hagen's AquaClear clip on filter range, which has a long history of proven performance.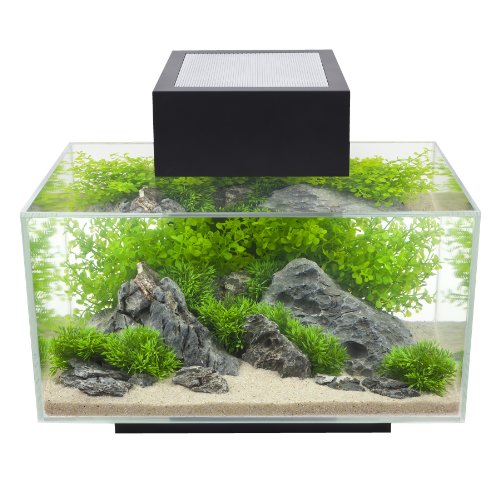 List Price: CDN$ 242.54
Price: CDN$ 242.54
More
Aquarium Products